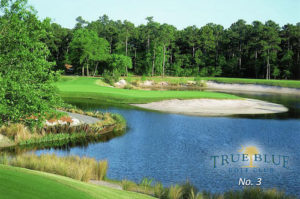 The weather may be cold where you're at, but don't worry about us. With the average February temperature in the low 60's, you'll enjoy great weather for golf!
At Caledonia Golf Vacations, we've designed the perfect package for you – The "Fore" Star Golf Getaway Package. On this package, you'll get to play four rounds at Caledonia and True Blue. You can split those rounds up however you'd like.
For example, you can play three rounds at True Blue and one at Caledonia, or vice versa. You can also do an even 2/2 split between the two tracks. Included in this deal, you get three nights at True Blue Resort in either a two or three bedroom villa.
Each villa comes with two twin beds in each room. Packages start at just $429 per person. To get more info on this and any other of our packages, click here or request a free quote today.
Caledonia Golf & Fish Club
Since opening to the public in January 1994, Caledonia Golf and Fish Club has rapidly gained a reputation as one of the premier courses in America. It is the first solo design of late, great golf course architect Mike Strantz. Strantz approached his assignments in a unique way—as an artist, rather than an engineer. His exceptionally creative eye is reflected in the way he sculpted Caledonia's 18 holes, with large, creative greens guarded at times by ponds, streams, and imposing bunkers. The same sort of majestic live oaks that overhang the entryway into Caledonia similarly frames many of the shots at Caledonia, giving the course a rustic feel. Thousands of annual and semiannual flowers bloom every year throughout the property, further adding to the beauty of the experience. No houses encumber the interior of the property—the joy of playing golf is left alone by the worry of hitting a ball into someone's backyard.