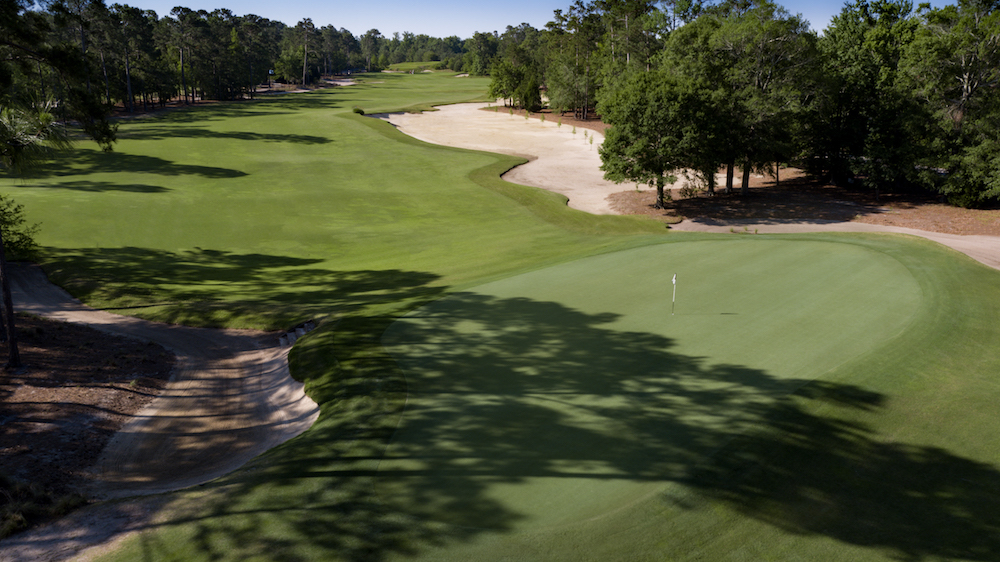 At more than 600 yards from the championship gold markers (602, to be exact), the par-5 15th Hole at True Blue Golf Club is every bit the beast it appears to be from off the tee. But with thoughtful club selection, a good score is attainable – even if your dreams of reaching the green in two here might be a stretch.
Even for mid- to high-handicap players, the length is considerable (577 yards from the middle white markers), so manage your game appropriately as this hole's layout dictates. So off the tee box, you'll want to keep your drive left center of the fairway to steer clear of the waste bunkers that flank each side of the landing area.
Playing as a three-shot hole, you'll then want to hit your second shot middle right of the fairway – steering well enough clear of the left-side waste bunker that comes more into play here, but also giving yourself a good angle for your third-shot approach.
From here, it's less about iron distance and more about accuracy into an elevated green – one that departs from Mike Strantz' more prevalent undulating greens on other holes here. On No. 15, it's more of a "turtleback" concept," a la Donald Ross, where the putting surface crowns in the middle and slopes down to its surrounding edges. Hit it high and soft, and anything close to the pin is an impressive feat.
A two-putt for par here is a great score. A birdie at No. 15? Perhaps a crowning moment to a memorable back nine. Hit 'em straight and soft here, and you just might have a shot at it!
Next time you're in town to play True Blue, stop in the clubhouse before you leave and tell us how you did on this fantastic golf hole. Birdie or bogey, we guarantee it's one you won't soon forget!