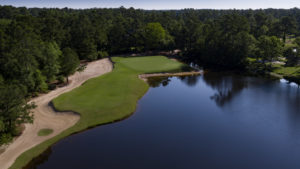 In a recent episode of Farish Media's "Links Illustrated," PGA Tour veteran Hugh Royer III took viewers on a brief playing tour of True Blue Golf Club's challenging 16th Hole, a par 3 that, at more than 200 yards, gets your heart racing before you even step up to the tee box.
As Hugh described:
"Take a good look here. How intimidating does this hole look? Two hundred and eight yards from this tee to that pin with this lake, and that bunker on the left. What a great par three.
"The one thing you have got to remember: when you get on a hole like this, it can be very intimidating, it can make you very nervous, because you're so worried about getting this ball on the green. I say it all the time to my students, and I'll say it again now. You have to worry about the process, not the outcome. If you do the process correctly, your outcome will be the result that you are looking for.
"Now, I've got 208 yards, I've got my 4 iron, which should be the perfect distance. Just a nice, smooth 4 iron, try to put it in the middle of that green, make three, and get out. If I make birdie, it's an absolute gift. Just like winning the lottery.
"With a good tee shot about 15 feet from the pin, I'd take it every time, I don't care what the situation is – because I've given myself an opportunity to try to make it two, but I can guarantee myself a three."