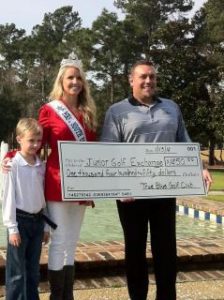 A boost from True Blue Plantation has helped Meredith Kirk's new Junior Golf Exchange get off the tee. 
True Blue donated the $1,450 proceeds from its annual Holiday Skins Game to the organization Kirk founded this fall to provide free golf clubs to children throughout the United States. True Blue PGA head golf professional Bart Romano presented the check to Kirk on Jan. 13 outside the True Blue clubhouse. 
"True Blue is making a real commitment to junior golf," said Bob Seganti, PGA director of operations at True Blue Golf Club and Caledonia Golf & Fish Club. "With all that Meredith does for junior golf here in the Myrtle Beach area, we couldn't think of a more appropriate recipient." 
The check was the first monetary donation received by Junior Golf Exchange. Kirk, an LPGA member and area golf instructor, is promoting Junior Golf Exchange as her platform for the 2014 Mrs. America Pageant. The Murrells Inlet resident won the Mrs. South Carolina title this fall. 
"We're very grateful to True Blue Golf Club for this generous gift," said Kirk. "We'll use this to purchase clubs for junior golfers."