Pawleys Island is the yin to Myrtle Beach's yang.
Myrtle Beach offers a more raucous scene and easy access to everything the area has to offer. In contrast, Pawleys Island is a much more understated experience, relying on casual charm and the virtues of a quiet evening.
The appeal of Pawleys Island's laid back vibe is enhanced significantly by several of America's best golf courses being located within a Dustin Johnson drive of one another.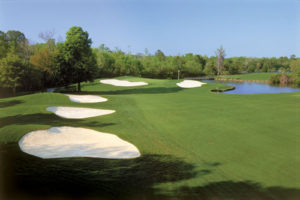 Pawleys was ranked one of America's best golf islands, and the area's on-course offerings are anchored by Caledonia and True Blue, both ranked among Golf Magazine's Top 100 You Can Play, Heritage Club and Pawleys Plantation. Pawleys is home to some of the best Myrtle Beach golf courses.
Both Mike Strantz designs, True Blue and Caledonia offer completely different yet equally compelling designs. Caledonia, No. 24 among the Top 100 You Can Play, is a masterful design that is impeccably maintained – think of playing golf in a botanical garden. The soaring live oak trees draped in Spanish moss provided an ideal canvas for Strantz to carve his masterpiece.
True Blue is a modern design with expansive fairways framed by waste bunkers and mammoth greens. It's a terrific course that is certainly worthy of being ranked the 77th best public course in America.